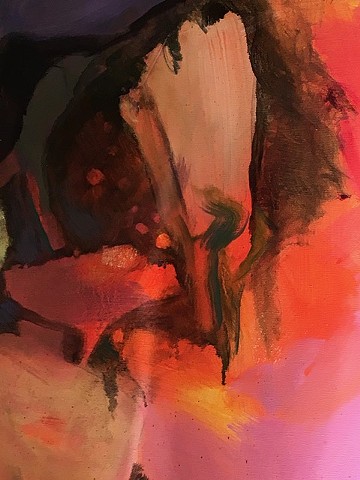 My large paintings add a "pop" of color to a room making it a unique contemporary space. Place in a home or office and your investment increases in value as friends, family and business associates compliment the living and working environment.
My smaller paintings often have a whimsical slant. Hang them in hallways, bathrooms, kitchens or your child's room and they will add
needed flair. My paintings become topics of conversation for guests as laughter and curiosity adds to a gala evening. Children love them in their rooms and will keep them through life.
I paint with oils on stretched canvas. I thin, pour, push and sand oil paint until the surface reflects layers of a nonrepresentational composition or one that is subtle in suggesting reality. I dig into the paint with brushes, graphite sticks, any tool that gives that one "aha" moment I look for in my work.
I am intrigued by the juxtaposition of varied styles. I want the viewer to be drawn in by bold strokes that slowly move toward the story told by quiet almost discreet areas of the composition.
Marjorie Arnett